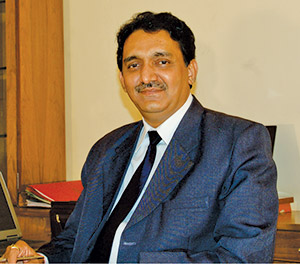 Dear Friends,
The world map has undergone a sea change during the last decade. The trend continues and promises to be even more unfamiliar. The need to be geared up for tomorrow is more than even before. At the same time, technological advancement has also turned out to be the most important factor in creating long term economic growth and productivity improvement not only in our country but all over the globe. With our entry into the 21st century, the pace of technological innovation has accelerated at an even greater pace than before. The greatest challenge to the businesses everywhere will come not from low cost producers but from low cost and effective innovators. In recent years, the impact of technological innovation has become so pervasive that the ability to understand and manage the process and its impact has become an increasingly essential requirement for business managers regardless of functional speciality.
India has always been recognized as a knowledge pool. It has created its own niche in the knowledge workers market. This has led to greater mobility among Indian talent pool to handle global operations. To understand the dynamics of change and reach the zenith of success, Suryadatta students are trained and equipped to take on the world and leave their mark in the corporate world. We at Suryadatta create a path of knowledge driven by system, thoughts and strive to create intelligent knowledgeable and self-motivated leaders by providing enormous intellectual back up.
Suryadatta offers inspiring modern environment which transforms students into talented professionals. Today we have multiple market oriented specializations where one can explore his/her genius and can reposition his/her own talent. Suryadatta offers under one roof multiple disciplinary skills, talent, knowledge, professional skills development programmes and exposure to industry for effective utilization of time and develops a positive attitude which are the most valuable asset for making a successful career.
Suryadatta believes greater the value you put on managing time, skill and your talent, the more you are going to accomplish because you will utilize them better and you will reach your goals and achieve your dreams sooner. When the goals have been reached you will set your sight at even greater heights. Due to our vision & global orientation, renowned International Business Schools have chosen us to talk about possible joint venture in India.
Let me assure you that Suryadatta will provide you knowledgeable, disciplined, motivated and well groomed personality who believe that every drop of their effort meets their quest for success.
With warm regards and good wishes,
Prof. Dr. S.B. Chordiya
Founder President & Chairman